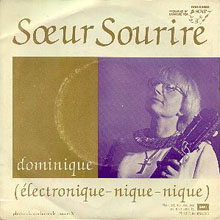 The Lyrics of Soeur Sourire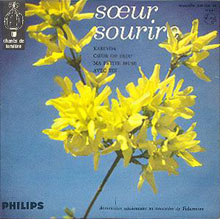 I Found the Lord      J'ai Trouve Le Seigneur

Key of Dm

I found the Lord on the shore

I found the Lord in the pearly shells

Chorus

Little boat on the waters

Sail away, sail away

Little boat on the waters

Take my soul  to the sky

I found the Lord in the breeze

I found the Lord

In the misty wind

Chorus

I found the Lord in the sand

I found the Lord

in the dreamy swells

Chorus

I found the Lord in the mist

I found the Lord

In the sunset on the dunes

Among the Stars         Entre Les Etoiles

Key of G

Chorus

Among the stars

The Lord has written your name

Among the stars

In His  house way up high

Among the stars

The Lord loves your life

Among the stars

Close to Him in paradise

The night when the Lord wished for you

The night, the night when two lovers

gave you life

The night when out of love God

gave you life

Oh bless the night!

Chorus

The day when the Lord

redeemed you

The day

The day when He made you

His child always

The day when your heart

Stayed with the Lord

Bless the day!

Chorus

The evening when the Lord

called your name

The evening

The evening when you've grown old

and you depart this world

The evening when you return

Your spirit transformed

Bless the evening!

Chorus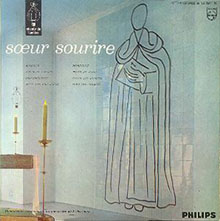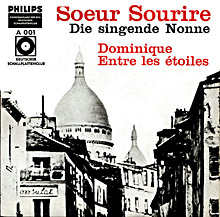 A Flower          Une Fleur

With a flower on the tip of my

muddy shoes I'm walking toward

the Lord, happily singing.

With a flower on the tip of my muddy shoes

I go my way with a light heart

I've picked a flower of hope

Among the budding wheat

Among the adolescents

And winter evenings

I've picked the flower of hope

In the love of the Lord

Toward Him I am advancing

With a heartful of songs

I found along my way

A flower in the sunshine

It chased away

My desperate tears

In my heart,

The wealth of a see of eternity

Carries me with the happiness